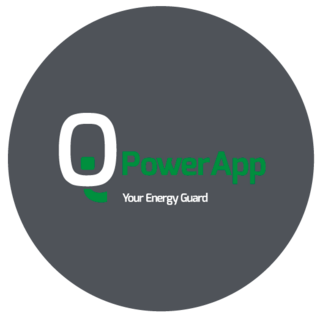 UPS-Power-Management
Natural disasters, human errors, technical failures or even a cyber-attack: If servers and systems are disconnected from electricity, your business continuity might be in danger. Our UPS-Management-Solution PowerApp ensures that your machines never fail to service. PowerApp protects your data in case of power failure and provides safe server shutdown/startup and live migration of virtual machines.

Download data sheet
Download data sheet "Technical Specification"
Features & Benefits
New Features
Redesign GUI
Ups infopage
SNMP monitoring
extended authorization concept (read only / read and write)
KVM (Kernel-based Virtual Machine) support
Solaris Zone Support
Core Features
PowerNodes for centralized or autonomous control and management of shutdown procedures in branch offices.
Simulated disaster tests (also in branch offices) and log transmission to the control center
Shutdown/restart of PowerApp via GUI
Shutdown/restart physical machines through management ports
Shutdown/restart virtual machines through hosts
Automatical or manual restart possible
Server shutdown based on UPS status resp. environmental sensors
Shutdown for Windows- and Linux-Server also graded according to function groups possible
Shutdown scenario simulation
Supports VMware vCenter
Superadmin console for troubleshooting
Agentenless implementation
Alerting via E-Mail/Command Line/Alert Messaging Server-Integration
Commands can be synchronous or asynchronous
Define users and user roles
Rules based on shutdown groups
AD/LDAP integration
Location-based classifications of systems
Server and UPS status displayed in surface
Discovery function for new server
Compliance because of audit trails
Benefits
Multi-tenancy
Easy-to-use web interface
More security through experimental shutdowns (diaster test)
Simulation of shutdown and failover logic
Operating Mode
PowerApp is an UPS shutdown appliance that works agentless. Windows server, Linux server and applications are shut down automatically, stopped or moved to a secondary data center.

PowerApp guarantees the reliable shutdown of servers based on the status of the Uninterrupted Power Supply (UPS).


Appliances
PowerApp 2600 is the highest performing PowerApp appliance on two height units with ten cores and 32 Gigabyte RAM. A RAID controller and one redundant power supply ensure maximum reliability. Due to the high performance, PowerApp 2600 is especially for large organizations with multiple data centers up to 5000 servers.

Power App 1100 with eight cores and 16 Gigabyte RAM is suitable for large organizations up to 1500 server. A RAID controller and one redundant power supply ensure maximum reliability.

PowerApp 600, with octa-core processor and 8 Gigabyte RAM, ensures secure shutdown of the server systems and applications in small and medium-sized organizations up to 350 Server.

PowerApp can operate as vitual machine alternatively.



Screenshots
List of servers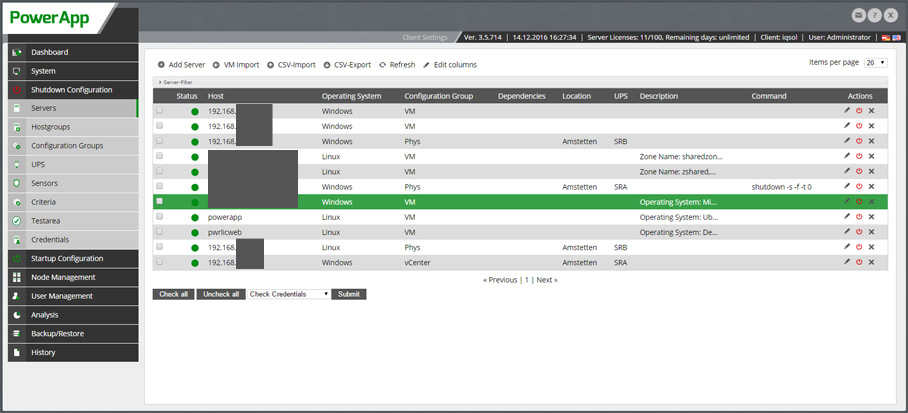 All systems that should be shut down in the event of a power failure are stored in the server list.
Hostgroups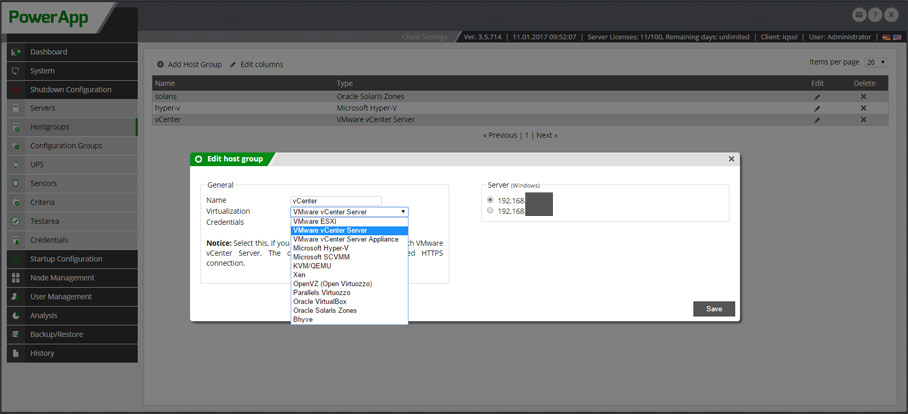 Extensive hypervisor support for importing and controlling (shutdown/startup/migrate) virtual machines.
Data streams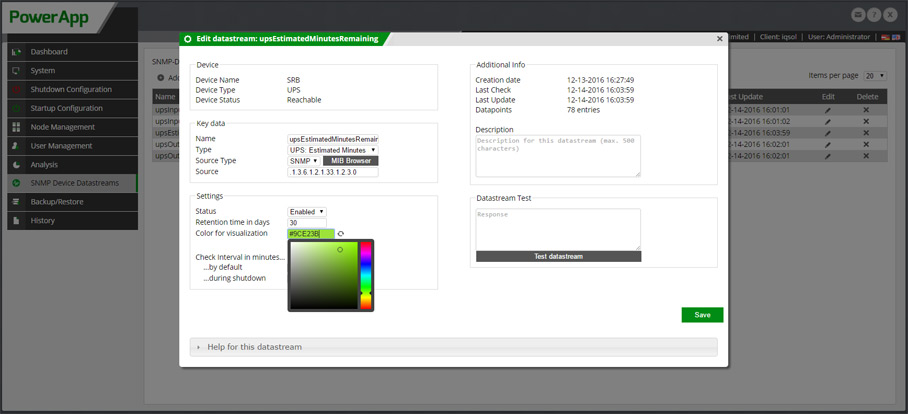 Define data streams, what is to be queried by UPS.
UPS Dashboard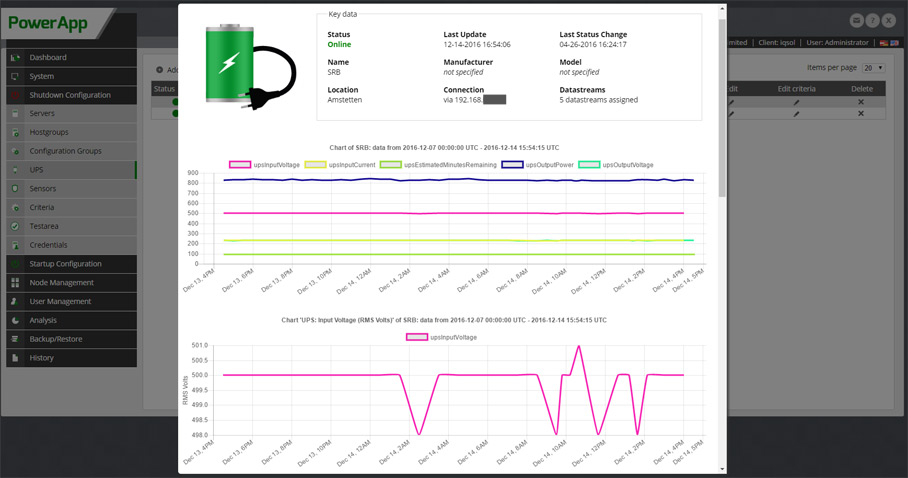 UPS Dashboard with details of the UPS including charts.