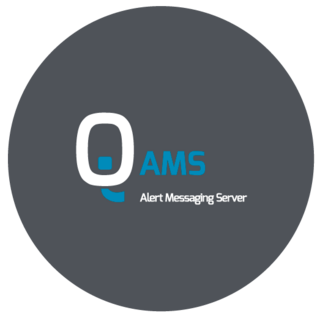 Alerting and Monitoring
The fully adaptable Alert System is made for administrators of High Availability Environments. Our Alert Messaging Server (AMS) notifies you whenever hackers are attacking the system or in case an error or incident occurs. AMS sends an E-mail, SMS, or a Voice Message to you or your engineers to alert you about irregularities. Work schedules and exactly defined Escalation Procedures can be integrated so the right person is contacted whenever something happens.

Download data sheet
Features & Benefits
New Features
E-Mail and SMS Templates
Maintenance Mode in case of incidents
SMS Gateway via HTTPS (REST)
Core Features
AD-integrated authentication
Adaptable web console
Action by alarm confirmation
Alarm delay
Alarm profiles with different alarm times for E-Mail, SMS and voice
Escalation procedures
Audit logging (for traceability)
Representation of emergency cases
Display of emergencies in alert solution
Windows Server 2016 Support
SQL Server 2017 Support
Mail-to-SMS-Alert
Import of work schedules
Import of holidays
Benefits
High availability
Multi-tenancy
Modular
Qualified error message and communication system
Redundancy of critical systems
Real-time alerts via SMS, voice and E-Mail
Quick troubleshooting
Interfaces to known monitoring solution based on Windows and Unix/Linux
Feedback to the monitoring system by confirmation manager
Web visualization of alarms
Comprehensive maintenance
Quickly available Specialists
Operating Mode
Alert Messaging Server is a fully adaptable Alerting System that works in combination with a Monitoring Solution. It sends systemic alerts via E-Mail, SMS and Voice Message. A Network-, System- or Application-Management-Environment is necessary in order for it to generally perform; for example, WhatsUpGold, Realtech, Microsoft, HD OpenView or NetiQ can be used.
Architecture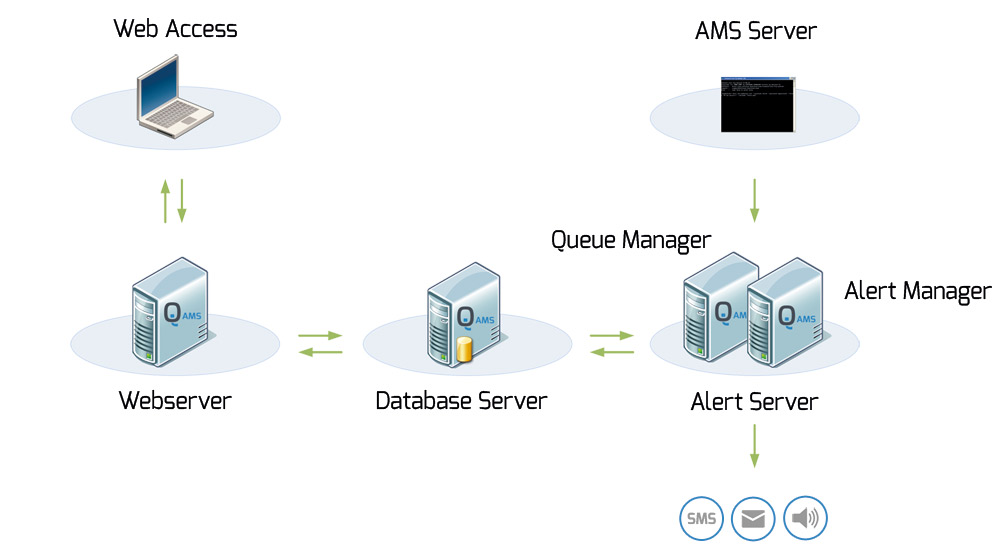 Modules
Depending on your needs you will find the appropriate solution. Depending on project size and required function, individual modules are configured:


Follow The Sun Modul

If you are providing your internal or external customers with a 24x7 Service and your business is globally positioned, the "Follow-The-Sun-Module" provides ideal coverage. This concept allows companies to guarantee continuous Service around the clock throughout multiple Support Centres and time zones. Multinational operating businesses are building Support Centres on several continents and they have their major time of operation during the daytime. Because the company still offers a 24x7 Service, calls that go to Vienna during the day are being detoured to Los Angeles during the night.

Alert Messaging Server provides the "Follow-The-Sun-Module", with its help the Support Centre "on duty" is notified instead of individual People or Departments. The AMS's multilingualism makes it possible to help and operate in the specific language.



Broadcast Modul

The additional module "Broadcast" is an extension of Alert Messaging Server. With this feature multiple people with different phone numbers can be notified – via SMS or Call – in case of a catastrophe.

HA Modul

Diverse methods to reach High Availability already exist. The most extensive version is the duplication of all components – both Hardware and Software. This way the whole system is constructed with redundancy. The failure of one component is caught by the second one.

Alert Messaging Server provides redundancy on several levels:

Data Base: Data Base (MS SQL Server) can be clustered
Queue Manager: This service can be installed on multiple servers. It receives alerts and sends the information to the central Data Base.
AMS Client: The "Client" can be installed on as many Windows and Unix/Linux Servers as wanted. You can notify the Client about different Queue Manager Servers by using local configuration. It polls the servers until one of them reacts to the request.
Alert Manager: This service can be installed on multiple servers. The first Server on the list polls the data base for new alerts – within a definable interval. Simultaneously a heartbeat is registered in the data base. If the heartbeat is missing, the second server proceeds with the alerting.
Voice Alert Manager: This service works analogue with Alert Manager Services.




Voice Modul

The on duty personnel is contacted via telephone and can confirm the alerts through an integrated Voice Server. The acknowledgement is carried out with the DTMF Code. Individual Voice Messages can be assigned via deposited WAV-Files on the AMS Server or through parameters at the alert transmission (or a combination of both methods). These assigned Voice Messages can be parameterised with a phone call.



Enterprise Bundle

In the Alert Messaging Server Enterprise Bundle the following features and modules are included:
Base Server License
2x GSM Modems
Unlimited User Licenses
HA Licens
Voice Bundle (Voice HA Licens + 2x Voice Engines)

This bundle offers the expected flexibility and scalability of enterprise environments.

Screenshots
Attendance view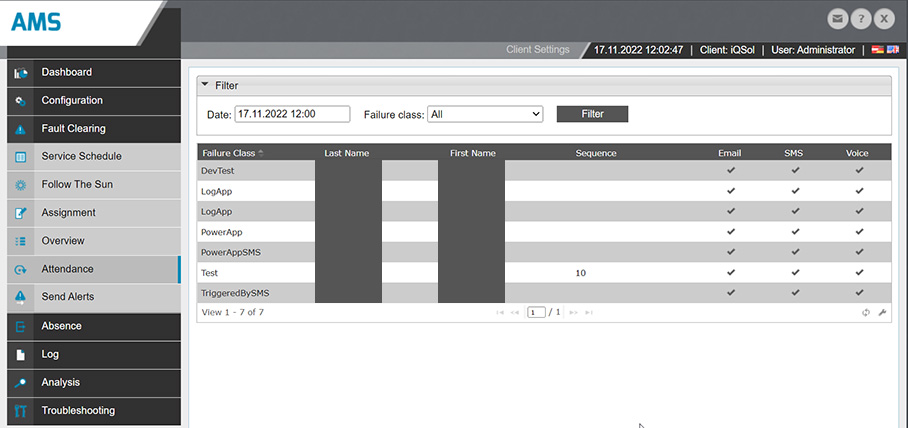 The attendance view shows who can be notified for which type of malfunction via which alerting channel.
Configuration Technician
Add persons to be alerted in the event of a malfunction.
Alert profile
An alert profile is used to define which alert channels (email, SMS, voice) are to be used when.
Alerting protocol
All alerts are recorded in detail in the alerting protocol (failure class, message, sender, recipient).