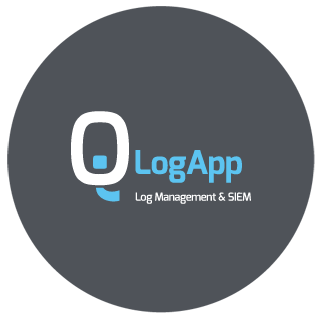 Regulation-compliant logging - the tool for IT security and compliance!
Finally, you can overview every movement and event that is happening in your systems. LogApp is your IT-Security Solution, if you want to get the best out of your Logs. Monitor and interpret numerous Log-Sources and easily manage and extensively report about them. It is also possible to have an isolated platform for Security Information and Event Management (SIEM).
LogApp collects events with the support of LogAgents and normalises and evaluates them via Syslog. ERP/CRM Systems and many other applications can be integrated and can facilitate the overview about who has when and where (il)legally accessed the network.
Especially this aspect makes up an essential part of the criteria that is checked by the Data Protection Authorities. The goal is to verify the compliance with Data Security Regulations via automatic processes and without additional input.
Features & Benefits
New Features
Redesigned interface
Supporting Windows Server 2016
Event forwarding with TLS 1.1
Lokal blocking of syslog event forwarding
Syslog licensing based on integrated devices
Core Features
Available as appliance or VM
LogAgents for Windows and Linux server
Syslog local or via agent as proxy
Centralized management
Centralized log analysis with correlation and rule-based alerting
Long-term archiving with two-man-rule optional
Log modules for Fortinet, HP Networking, Palo Alto, Checkpoint, Trend Micro, Symantec, Apache, Barracuda, Astaro etc.
Generic templates for customized log modules
File integrity monitoring for Windows and Linux
Rule module for Windows Server, Linux Systemlogs, Fortinet, HP Networking, etc.
Encrypted communication between LogAgents and LogApp (optional)
Alerting via E-Mail or iQSol Alert Messaging Server (SMS, voice)
Alarm forwarding by syslog to monitoring solutions, altering solutions, SOCs etc.
User- and role management with optional Active Directory/LDAP integration
Real-time reports on dashboard
Enterprise Reporting Server based on Microsoft SQL Server Reporting Services
Enterprise Reporting Server templates for PCI and compliance reporting
Benefits
Easy configuration management and easy to use web interface
Integration of additional iQSol products and third party solutions possible
Optional available as Managed Security Service
Calculable licensing by server and assets
Multi-tenancy
Multilingual support
Appliances
Technical Specification
LogApp 2600
LogApp 1100
LogApp 600
LogApp VM
Hardware
Cores
10
8
8
min. 4
RAM
64 GB
32 GB
16 GB
min. 4 GB
HDD
7,2 TB (8x 1.8 TB SAS 10k)
4 TB (4x 2 TB SATA 7.2k)
2 TB (4x 1 TB SATA 7.2k)
min. 250 GB
RAID
RAID 10
RAID 10
RAID 10
-
LAN
4x Gigabit Ethernet
4x Gigabit Ethernet
4x Gigabit Ethernet
1-2x Gigabit Ethernet
Dimensions
Type
19" 1U
19" 1U
19" 1U
-
Modules
GenApp


implementing customized sensors and a connection to LogApp by generic platform