Be sure!
It is possible to get 360° protection.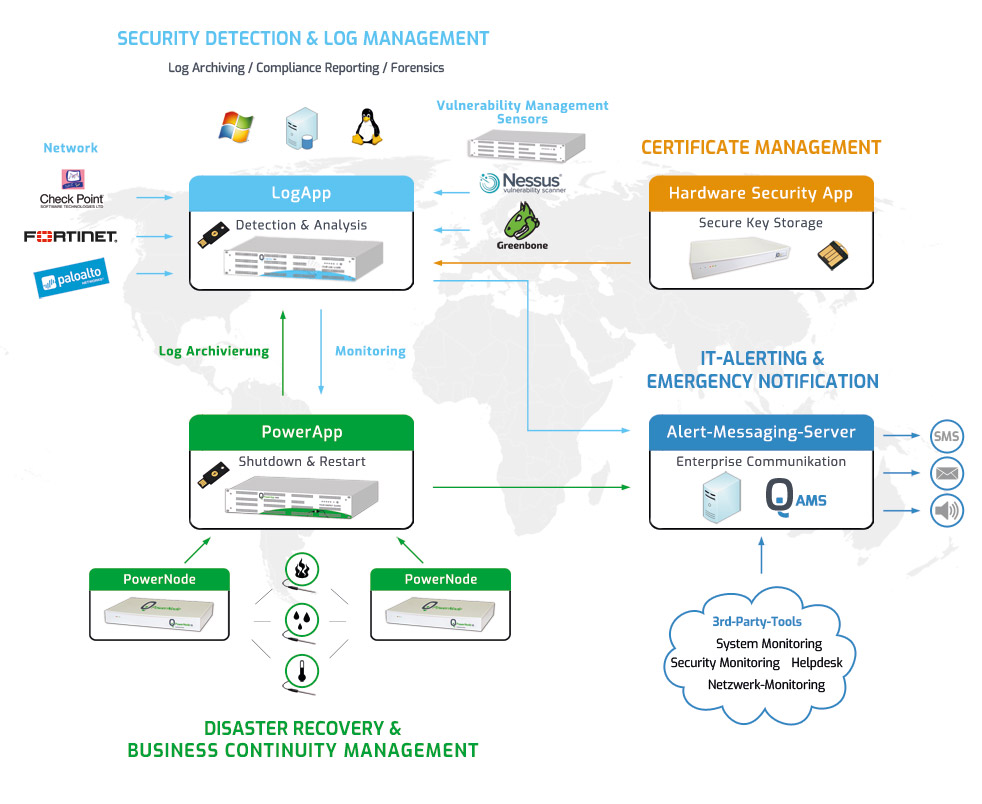 The solution
Be sure: It is possible to get 360° protection. For example, by having a high-security platform with our solutions LogApp, AMS and PowerApp. So your crisis management is compliant and remains manageable.
Protection starts with defense!
Don't be satisfied with the firewall, just start to defend yourselves against trojans, bot-systems and malicious cyber-attacks! Thanks to Security Event & Information Management (SIEM) per LogApp you are prepared: real-time log management protects you from nasty surprises and clears quickly faults on devices or systems - and the auditable, forensic analysis helps you to collect and analyze digital evidences.
Let IT security be absolutely clear!
In case of an attack or another problem in your IT or even IT infrastructure, it is important to communicate absolutely clear. If you don't realize unwanted intervention on your - perhaps even globally distributed - systems, attackers have free ride! With Alert Messaging Server AMS of iQSol we provide you with a tool that makes Enterprise Crisis Communication available everywhere: via broadcast function, SMS, voicemail and e-mail.
React before it's too late!
Your IT depends on electricity as well as on your ability to act. Create a secure base: If fire, water, storm, a longer power failure or even a total blackout threats your business continuity, it is time for iQSol PowerApp. Regular disaster tests and an emergency manual help to intervene quickly and secure long termed continuous processes and production-chains (SCADA). A live migration of your data, the UPS management with shutdown and restart function for your systems just by pressing a button as well as the management of your systems with UPS operations do not only save your nerves, but also money and loss of image. You can easily evaluate unwelcome incidents thanks the collected log data by LogApp – and be better prepared for the next time!